How to apply for a bank statement for Visa Application – They are things you can not apply for a bank without presenting them. A bank statement is what is most important in this context. A bank statement is a document that is necessarily needed for the Visa application.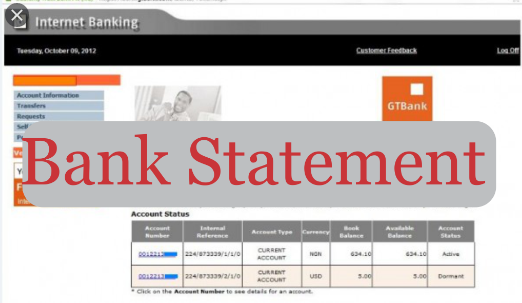 This you must apply in some countries like the UK in particular. You are likely to submit your bank statement with other required documents while applying for a visa. We will disclose more to you as we move further. Aside from the bank statement, they are other things you need to find out that you need while applying for the visa.
Traveling overseas requires a whole lot of things as simple as your documents as proof of your originality. The essence of this is to make sure that you don't just take care of yourself but not to become a liability over there. It is severe in countries like the USA, UK, and Europe. A whole lot of documents will be checked.
What is bank statement?
A bank statement is an open detail that shows your bank transactions inclusively the data of your deposits and withdrawals. Some banks also include the time at which the transaction took place and as well the biodata.
It is one of the crucial documents that you need in order to gain access to another country.
Why do I need a bank statement?
 This will drastically prove to them your financial strength. Some country's financial demands may or may not favor you and if your financial status is not able, you may not be allowed or offered visas into such a country. So far their reasons are not farfetched. If you don't present your sustainability strength over there via your financial strength (which shows how your financial strength is over your present country) you may not be approved.
Contents of Bank Statement
Here are what that are inclusive in your bank statement:
Deposits: The bank statement contains the owner's deposits for every transaction on a daily basis, monthly basis, yearly basis, and times. On every transaction made, the bank keeps your records often. Any money that is been deposited into your account sums up as the "Deposits."
Withdrawals: The bank statement as I said earlier also reveals all your withdrawal (online, ATM stands, or In-bank withdrawal). Inclusively the ones used for purchasing or paying bills.
Dates of Account Transaction: The date of every account transaction and time is as well included in the bank statement.
Third-Party Withdrawal:  any withdrawal made by the third party will be drafted out inclusively on the bank statement. Transactions that involved the issuing of checks for withdrawal will appear on the bank statement.
How to Apply for Bank Statement for Visa Application
Here, we've drafted out the necessary information that compliments bank statements. These are what you need from a bank in order to report your bank statement for your visa application. Read them thoroughly and see the important statement that is needed for your visa application.
A complete statement on the in and out the movement of money on your account.
Your bank details within a period of 6 months and more could serve.
Your bank statement of your account should be collected or issued by a bank.
Ensure that the name that appears on your visa is the same as that on your bank statement.
In other to prove the authenticity of the statement, the applicant's little bio should be attached to the statement. That will help as well.
In essence, some visa applications may ask you to forward your statement together with your salary slip or pension slip as the case may be.
Other supporting documents to be attached to the bank statement includes
Affidavit of support: This is to prove the support of the applicant. This is optional for those who have a bank account. Thus, this can only be presented if the applicant does not have a bank account or does not have enough financial strength. He can sign an affidavit of support. In this case, the person he/she is visiting (Third-party) can stand for the applicant to fill up the gap.
Your Birth Certificate.
Your international passport.
A passport photograph.