We recently talked about How To Backup Windows 10 To OneDrive.  System backup is very crucial and important to any individual or organization. In this article, I will give you high lights on how to backup windows 10 OS to an external disk.  Your computer hardware can fail, your data or file can get corrupt, your computer may get stolen or destroyed.
Unfortunately, If any of these things should happen to you, you may be able to reinstall operating systems and applications but your original files cannot be restored except you have them backed up somewhere. System backup will help restore all your app, files and document.
Types of Backup
There two types of backup. We have the system back up and the files back up the system back involve backing up the entire operating system to an external disk or to any cloud storage. the entire operating system includes all the apps, documents, media files and settings on your computer system. System backup is also known as the system image. While file back up is simply saving copies of your documents media files. for the purpose of this post, we shall be discussing the system back up
How to Backup Windows 10 OS
How to Backup Windows 10 OS to An External Disk
There a lot of ways to back up your system . You can backup to an external device or backup in the cloud. In my previous post, I have extensively discussed on how to backup on the cloud. In this article, I will be showing you how to backup windows 10 OS.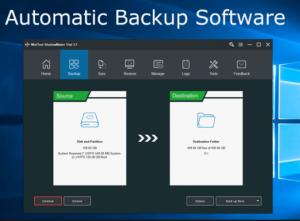 https://www.faqforge.com › windows › take-full-backu…
Taking a Full Backup of a Windows 10 PC on an External Hard Drive ; Step 1: Type 'Control Panel' in the search bar and then press <enter>. ; Step
https://www.cnet.com › Tech › Computing
To set it up, plug your external drive into the PC, and then click the Start button then the Settings gear. Next, click Update & Security …
https://www.windowscentral.com › … › Windows
the system image tool allows you to create a full backup to an external drive or network shared folder. However, it is best to use removable …
https://www.quora.com › How-do-I-backup-Windows-10…
click on Update and Security, under Backup Section, click on Add a drive. Once it found an external drive then select it and follow the instructions, choose your …
Steps on how to backup windows 10 OS
Open the Control Panel
Click System and Security
Select Backup and Restore ( Windows 7)
Click on Create a System Image
Thereafter, you can now connect your external drive to your PC.
You will see the option of where to save the backup. Select the hard disk you have connected and click
Click on the Start Backup The system backup may take up some time depending on the number of files that is been copied. When the process is completed, you will need to keep the external storage device somewhere safe.
How to restore system image in Windows 10
After your system backup and the unexpected happens. Maybe your windows 10 OS got corrupted, crashes or stopped working you want to change your main hard drive take the following steps:
Connect the backup drive to your computer.
Assuming your Pc is on go to settings. Then click on the Settings Icon
Select Update & Security
Click on Recovery
In the advanced startup section, click on Restart Now.
If your device is not booting into the Windows Setup wizard. You will need to press any of the function keys ( F1, F2, F3, etc).
On the Windows Setup page click on the Next
Click the Repair Your Computer link
Click the Troubleshoot
Select Advanced Options.
Click the System Image Recovery.
Select Windows 10.
On the RE-image windows select the Use the latest available system image
Click the Next Button
If you are restoring a full backup to a new hard drive, you can select the format and repartition disks
Click the Next
Click the Finish
Click the Yes
After this step, the recovery process will begin. The duration of the restoration is dependent on the data on the hard disk. Also, you have to ensure that there is no interruption or failure until the process is successfully completed. In addition, you must ensure that your computer system is connected to a power source.
How to Backup Windows 10 OS
there a lot of ways to back up your system . You can back up to an external or in the cloud. In this article, I will be showing you how to backup windows 10 OS.