We recently talked about How to Backup Windows 10 OS to An External Disk. Regular back up of files and documents on your computer system is very important. Knowing fully well that these files are vulnerable to hardware crashes, virus attack and even to natural disasters like flood, fire, etc that can damage and corrupt your files. Therefore, a regular routine backup is necessary for others to protect against losing these files and documents. I will show you how to backup windows 10 to Onedrive.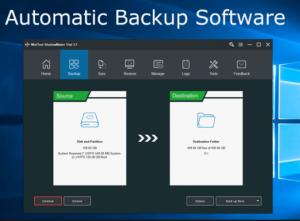 There a lot of ways to back up your files and documents in windows 10. You can copy your files to an external storage or store your files in the cloud or employ a third-party backup solution.  However, for the purpose of this discussion, we will focus on the second option which is storing your files on the cloud I will limit it down to how to backup windows 10 to Onedrive.
How To Backup Windows 10 To OneDrive
Types of Backup In Windows 10
Before we move deep into the discussion . its important that I make clear the different types of backups we have. Backup is of two types.
System Backup: system back is also known as the system image. This is different from copying your files from the computer system. System backup involves backing up your entire operating system. This may include installed programs, files, and settings. System backup consists of so many software that performs many different tasks. Therefore, it may require a lot of storage space. In addition, making a backup of the entire operating system is more complicated than just backing up a folder full of your pictures and movies. You can do your system back up in Windows 10 by using file history or cloud storage. See my post on the best cloud storage File history backs up your system on the hard disk or  an external drive
File Backup: file backup is simply making copies of your individual or group files such as movies, music, pdf files that have been stored on your computer.  In other words, this can be an important file that you need for work. It's important that every pc owner has at least a flash drive or an external hard disk where he or she can store copies of these documents and files.
How To Backup Windows 10 To OneDrive
The best and safest means to protect your files and document from loss or damage is by storing it in the cloud, there are a lot of cloud storage services available. Most of this cloud storage provides free storage space. For example, Google Drive offers users free 15GB for free. You can check out my post on the best cloud storage to learn more.
OneDrive is one of the best cloud storage and its owned by Microsoft. Onedrive is built in all windows 10 as the free cloud storage. Therefore, if your system is run on windows 10, no need bothering yourself to download a cloud storage app.  All windows 10 operating system comes with the "OneDrive Folder" where all the files that are placed in this folder are automatically uploaded to your online Onedrive storage.
Backing up an entire operating system may require much space up to 1terabytes. Therefore if you are using the free version you may not have the much-needed space to back up your space. In other words, you will have to buy additional storage space to make up with the free 5G space. In addition, you will also need a fast internet speed and it will take a lot of time to upload the entire operating system files.
With all these limitations, I will suggest that you upload a copy of the folders one after the other. This will help maximize the space available. You will have to upload things that are most important to you.
In addition, it is worth pointing out that OneDrive is actually designed for file synchronization, not just simple file backup. Any file you store on Onedrive can be accessed by you across all devices that your account is logged into.
In conclusion, I believe you have learned something from this post titled how to backup windows 10 to Onedrive.
Backup Windows 10 To OneDrive
There a lot of ways to back up your files and documents in windows 10. I will show you how to backup windows 10 to Onedrive.