Southwest WiFi, an ideal for Inflight entertainment. Fly with southwest airlines today and enjoy free Inflight entertainment. Thus, you can connect to the website through WiFi to access free movies, free live TV, and inflight entertainment.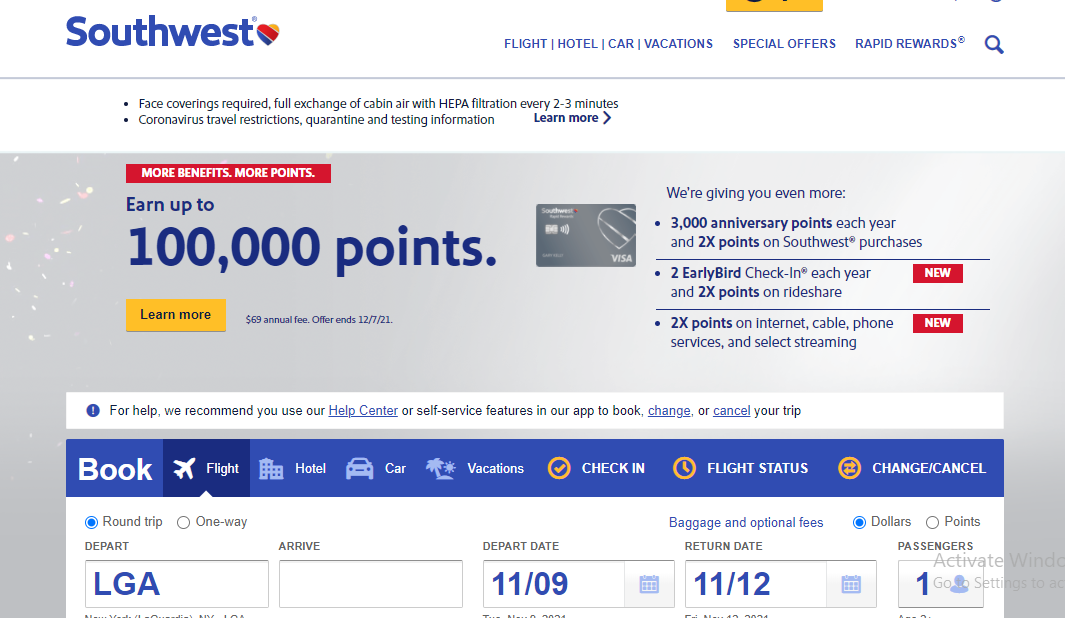 However, in order to provide the best experience for travelers, the company block access to certain high-bandwidth. Including applications, websites, and video conferencing services, though not limited to, Netflix, HBO Max, Zoom, and Microsoft Teams.
Southwest Inflight Entertainment Website
Travelers who needs Wi-Fi for entertainment, can make use of the following Inflight entertainment platforms;
Movies : Access free Movies. To access some of the free southwest movies, first and foremost you must download the southwest app. Do this before your flight departure time.
On–demand TV: Access free On-Demand TV. Just like the above, requirement. You need to get the mobile app on your device  to be able to access on- demand TV. However, there's a selection of on-demand TV shows to make your flight pass quickly.
Live TV: access free Live TV on the portal. There are 16 live TV channels you can access, including  CNN, Fox, Discovery, Disney, etc.
So With this website you stay connected with the Live TV shows and news that matters most to you.
Messaging:  send free Messages via WhatsApp and imessage. These are the only messaging apps it allows. If you don't have the any of the app, quickly download it.
Music: Enjoy free Music via the iheartradio app. You don't have the app? You can download the app from the app store before your flight.
How do I Connect to Southwest WiFi?
After boarding a flight, you want to access the southwest WiFi for your Inflight entertainment, do the following;
First and foremost download southwest app.
Get your device. Scroll to Settings and set it to Airplane Mode.
Next, Turn on your Wi-Fi.
From the wireless networks list locate Southwest WiFi and select it.
It will take you to a new page with a link to Southwest's Wi-Fi page.
Either tap on the link or copy/paste it into your However, if the page doesn't load, manually input www.southwestwifi.com into the address bar.
You can now Enjoy your flight.
Other Info
Southwest provides many free in-flight entertainment options, but if you want to have (almost) full access to the world of the web, you need to pay. How much do I need to pay to access full web on southwest? The price is $8 per day. With this, you can use it even if you change aircraft during your trip.
However, for A-lister, there's great news for you, their Wi-Fi is free of charge.
Also, you must know that not all aircraft are Wi-Fi enabled. You'll have to inquire about this before your trip. And the website states that the Wi-Fi may not be available during the whole flight. Because of their limited licensing. So with their paid service, you'll be able to browse the web, check your emails, get your daily Instagram fix and many more.
Customer Service
For further inquiries and assistance, contact the customer support Agent at :1-800-435-9792
They are very much available to help 24/7
Or
Write to
Southwest Airlines
PO Box 36647-1CR
Dallas, Texas 75235