A trade show is an integral part of marketing for both buyers and sellers and makes the business world go round. Trade shows are essential for businesses that are looking for a list of prospects, orders, media publicity, as well as connections. Organizations stand to benefit a whole lot from trade shows even though it comes with a fee of some sort.
What is a Trade Show
A trade show can be simply defined as an exhibition event that brings companies together to enable them to showcase their current products and services to members of the trade as well as other businesses within the industry.
Trade shows are planned by Trade associations to build excitement and bring key players within a given industry together to collaborate and learn, and ultimately capture new customers, and get to know about what's upcoming and trending.
Note that a trade show is not typically open to the general public to attend, this means that those who can attend the event are members of the press, company representatives, and top professionals within the specific industry that the trade show is focused on.
Those who attend the show are granted access to the latest technologies, newest features, special pricing, and valuable insights as regards the state of the industry. On the other hand, companies that exhibit their new product or service, are given valuable time to build relationships, engage with the press, build their brand awareness, gain leads, and close deals.
Why Trade Shows?
If you are attending a trade show, you can be sure you'll be getting on the following: workshops, breakout sessions, speaker presentations, targeted exhibition events, press and media opportunities, networking events, and award ceremonies.
The icing on the cake for any trade show is the teeming number of people, products, and trade show booth displays.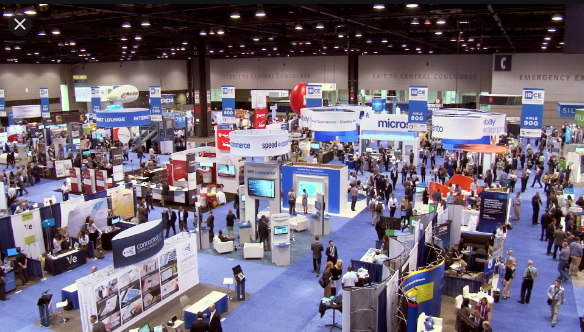 What Happens at Trade Shows?
Trade shows offer the following:
Opportunities to get access to the media, as they always come to cover the show.
Workshops or presentations
Award presentations
Exhibit space
Evening networking events
Private exhibitor events.
Exhibitors come to a trade show to connect with potential new clients/customers, and also to reinforce relationships with dealers and distributors, and network with influencers and the media.
Attendees, on the other hand, come to trade shows to familiarize themselves with the latest products being introduced into the market. This is to take advantage of special "show prices" from exhibitors and to become better educated about their industry.
https://www.tradeshowdisplaypros.com
Find all your trade show banner stands, pop up displays, tension fabric displays, and tabletop displays to make sure your business stands out for the right
https://www.affordabledisplays.com
Fast production & shipping on a variety of portable trade show displays. In-house design & graphics for all your trade show display needs. USA Made.
https://www.displayoverstock.com › 10-ft-trade-show-d…
Our portable tradeshow displays won't break your budget. Display Overstock offers a complete line of 10 foot trade show booths – the most popular exhibit
https://www.displays2go.com › Trade-Show-Displays-B…
Build the best exhibit booth with trade show displays from Displays2go. We're your one-stop-shop for exhibit booths, banners, table covers, and supplies!
How Much Does it Cost to Participate in a Trade Show?
There's no fixed cost in exhibiting or attending a trade show. But some expenses can make it run into tons of dollars. They include:
Shipping of booth and equipment
Marketing materials specific to the event.
Booth space rental
Design and production of professional display space.
Costs to unload booth and slide into show flow, which is known as drayage.
Travel and accommodations for staff manning that have the responsibility of manning the booth.
Attendees
Attendees will also have to pay something, even though it is a fraction of what it costs to exhibit. They are:
Attendance fee
Travel and accommodations for staff that are in attendance.