A job description is a document that features essential job requirements, duties, responsibilities, and skills required to perform a specific role. Furthermore, some essential description will feature how success is measured in the role so it could be used during performance evaluations.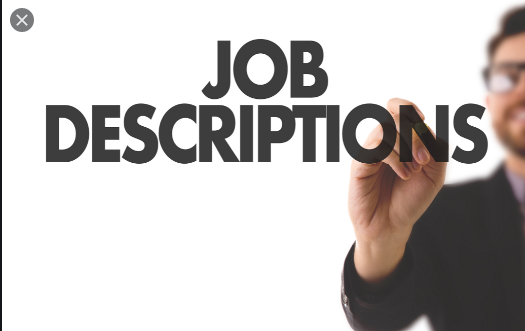 In other words, it is also known as job specification or job profile as the case may be. We figured out the most popular job description examples of job descriptions. This could create more job opportunities for your business as you can discover unique business requirements. Here is what we've got.
Tip for writing a professional job description
Note: Ensure that the job title and description corresponds. Make sure that it is defining the goals of the position and a timeline for reaching them. If not clear, enquire from others for help.
Can you write a job description? Here is how to do that
Download a job description template.
Create an official internal job title.
Now sum up the role in the opening paragraph.
Describe the essential job duties and job responsibilities.
State the essential requirements and qualifications.
Let success play a role in the report.
State who the role is meant for.
Now have it verified by the hiring manager and HR.
Note: when a job description is properly written, it should document the total definition of what a role is, what skills are required to perform it, and where the role suites in an organization. This portrays the need for a job description. With this, you could easily identify candidates that can suite in for the role. You can hold a candidate responsible for not being accountable.
What is the correlation between a Job specification and a job description?
The only correlation is that they are both documents that define jobs. Job specification only defines a precise job description, this details the exact educational degrees, experience, skills, and requirements for a role. But they are often time used interchangeably as they describe the same document.
Contents of a good job description
Our job description contains at least the most common duties list for every position, job responsibility contrary to the position, etc. we can help you get a job description written fast.
Job descriptions are as follows
Accounting Job Descriptions
Account Officer
Accountant
Accounting Assistant
Accounting Clerk
Accounting Coordinator
Accounting Intern
Accounting Manager
Accounting Officer
Accounting Specialist
Accounting Supervisor
Accounts Assistant
Accounts Payable Clerk
Accounts Payable Manager
Accounts Receivable
Asset Manager
Assistant Controller
Audit Associate
Audit Manager
Auditor
Billing Analyst
Billing Clerk
Billing Coordinator
Billing Specialist
Bookkeeper
Budget Analyst
Chartered Accountant
Comptroller
Controller
Cost Accountant
CPA
Credit Controller
Entry Level Accountant
External Auditor
Finance Director
Financial Accountant
Financial Controller
Financial Coordinator
Full Charge Bookkeeper
Internal Auditor
Junior Accountant
Payroll Administrator
Payroll Clerk
Payroll Coordinator
Payroll Manager
Payroll Officer
Payroll Specialist
Senior Accountant
Staff Accountant
Tax Accountant
Tax Associate
Tax Manager
Tax Preparer
Treasurer
Treasury Assistant
Here is an example of how it could be written
Template for accountant job description
We look forward to candidates that can efficiently discharge their duties with no trade of accuracy. Expect to deal with large amounts of numerical data, report transparent and complete reports to management and as well handle multiple tasks. We expect you to have experience in accounting and financial practice and regulations, have strong computer communication, verbal and written communication skills.
Customer interest is important and as such, Accountants should be prompt, honest, detail-oriented, professional, and analytical. Highlighted top candidates should be able to communicate complex quantitative data to decision markers successfully.
Accountant Responsibilities:
Compliance is needed both with the company, local, state, and federal accounting and financial regulations.
Ability to compile, analyze, and report financial data.
Presenting data for managers, investors, and other entities.
Presenting accurate financial records.
Computing taxes.
Compiling periodic reports like balance sheets and profit and loss statements.
Keeping informed about current legislation relating to finance and accounting.
Assisting management in the decision-making phase by preparing budgets and financial forecasts.
Accountant Requirements:
Bachelor's degree in Accounting. Or in a related field.
An experienced candidate may be preferred.
Special certification may be required.
Skilled in communication, analysis, and computer wise.
Average understanding in mathematics, accounting, and financial processes.
Ethical behavior
Detailed and composed attention.