You don't just start a business by heading head-long into it without carrying out the proper planning, to see how feasible your idea is, by this, we mean having a simple business plan template.
Writing a business plan offers you the opportunity to carefully analyzing every step of starting your company to help you better prepare and handle any challenges that may arise.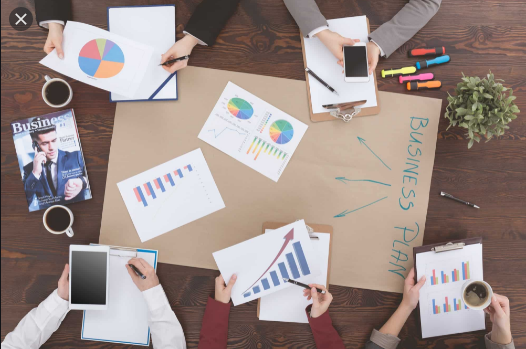 Benefits of Using a Business Plan
Developing a business plan will help you achieve the following:
You get the chance to plan strategies for dealing with potential challenges, so they don't obstruct your startup.
It helps you identify business opportunities you may have overlooked as well as plan on how to take advantage of them.
It helps you analyze the market and competition to strengthen your idea.
Define your target market and how to reach them.
Opens your eyes to weaknesses in your business idea that you need to fix before you start up the business.
It helps convince potential partners, customers, and key employees that you know what you are doing, and persuade them to work with you.
Mandates you to calculate when your business will make a profit, as well as how much money you need to get to that point, so you can prepare with sufficient startup capital.
Disadvantages of Using a Business Plan
Even though there are many benefits to using a business plan template, depending on your situation, it may not be the ideal tool you need to have your plan completed. There's still a lot of work you have to put in. They include:
You have to complete the financial spreadsheet and do the math yourself.
You must be knowledgeable about the process, to ensure you have the right numbers in place.
Data must be merged from the Excel spreadsheet into your Word documents, which is easier said than done.
What is Included in a Simple Business Plan Template?
It may be overwhelming at the beginning to write a simple business plan template. Thus to help you get through, we are offering a step-by-step guide to writing one.
The business plan sections in a template should be;
Executive summary
Company description
Products and services. Marketing plan
Operational plan
Management and organization
Startup expenses and capitalization
Financial plan
Appendices.
Appendices are documents that supplement the information in the body of the plan. These may come in the form of contracts, leases, purchase orders, intellectual property, key managers' resumes, market research data, or anything that supports assumptions or statements made in the plan.
The last section of the template on the other hand, "Refining Your Plan" explains mediums you may require to modify your plan for specific purposes, like getting a bank loan, or for a specific industry, like retail or manufacturing.
Simple or Detailed Plan – Which is Better?
This depends on the size of your business. A corporate business plan for a large organization can come in hundreds of pages long. But for a small business, it is best to keep the plan short and straight to the point, mostly if you intend to submit it to bankers or investors.
Keeping your plan at 30 pages should be sufficient except if you need to include photos of products, equipment, logos, business premises or site plans, etc.