It is generally regarded as best to log out of your Gmail account after using it in public places or other people's phones.
When using one's own phone or computer, it is quite alright not to log out after browsing, but staying logged in to Gmail on a device that others can access exposes your account to possible fraudsters, hackers, and all other unauthorized access. Browsing in public cafes, using online shopping websites, and accessing bank accounts with one's Gmail could potentially expose one to such a scenario.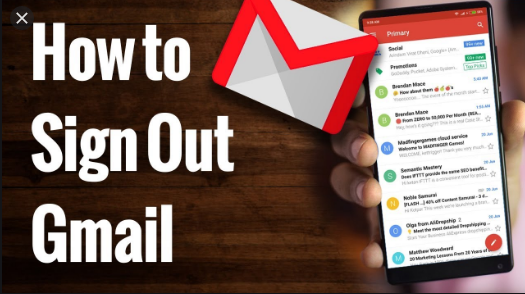 Just in case, a person forgets to log out of his or her account after using it in a public computer or someone else's phone, logging out of such accounts can be done remotely. A person can even stop a device from using one's Gmail account even if the device used to get lost or is stolen.
LOGGING OUT OF GMAIL'S DESKTOP WEBSITE
Logging out of Gmail in a computer involves two simple steps:
Select profile photo or initials in the top right corner of Gmail.
At the bottom of the menu, select sign out
To sign out of another account you are logged in, choose that account in the menu, then repeat the steps above.
LOGGING OUT OF GMAIL ON THE MOBILE WEBSITE
In using Gmail on the mobile website, the steps for logging out entails:
From Gmail.com type the hamburger icon (three horizontally stacked lines) in the top left corner.
Tap email address at the top of the screen.
Select "manage accounts on this device"
Tap sign out at the bottom of the screen
SIGNING OUT OF GMAIL MOBILE APP
Signing out of Gmail from the mobile app requires that you remove the account from your phone or tablet. This does not delete the account though, it only removes it from your phone until one log back in. Signing out if the Gmail mobile app includes:
Tap the image at the top right of the Gmail app
Select "Manage accounts on this device"
Select your Gmail account
Tap remove account
The account can be turned back on for the Gmail app at any time with this same method
SIGNING OUT GMAIL REMOTELY
In cases where one accidentally leaves his Gmail logged in, in a public computer, he has the option of signing out remotely. This is done by:
Open Gmail on a computer and scroll to the very bottom of the page below all of your messages
Tap or click "Details" on the bottom right
Select "Sign out on all other Gmail web sessions" from the resulting pop-up window
For an Android phone, blocking a device from accessing your account entails:
Sign in to Gmail account
Select Google profile picture
Select Google account
Select security
Scroll down to "Your devices", then select " manage device "
Select the device you want to block from accessing your Gmail account
Select "sign out" and then do it once more to confirm.