Xfinity Mobile Activate? Get fast and easy X Mobile's activation steps in this post. Before going into the activation steps, what is Xfinity Mobile? X Mobile is simply a new wireless service by Comcast, that offers phone service on top of your TV and internet packages.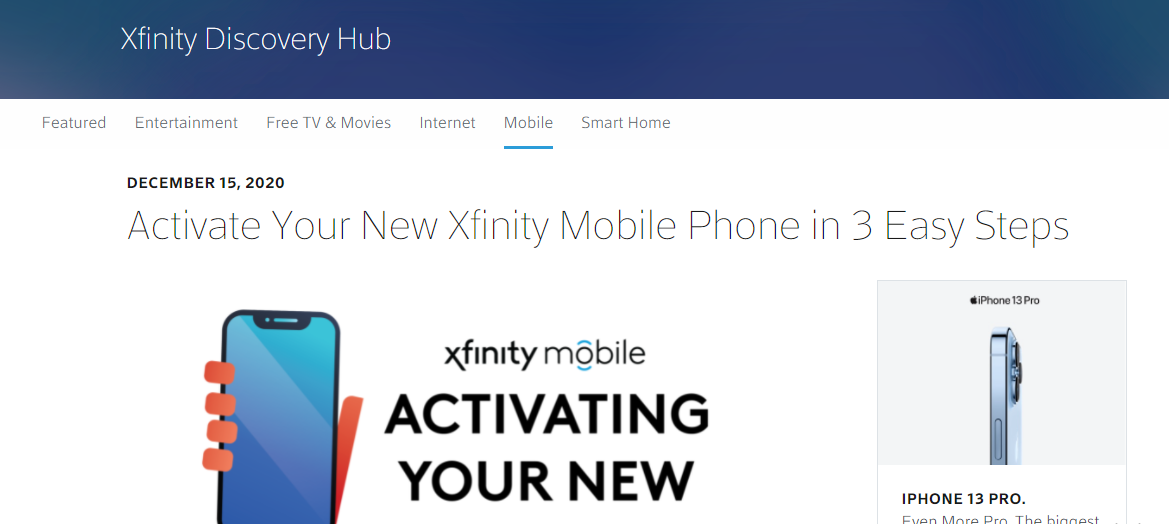 However, it is designed for the way people use their phones today with the Internet at the center of the experience.
It was launched in 2017 and has since grown to 2.8 million subscribers by the end of last year.
 Xfinity Mobile
Are you a new Xfinity Mobile holder? To start using your mobile device, first of all you need to activate your new device.  But, before that there's need to take out your new device plus other accessories that comes with it, from the box.  Accessories such as Sim card, phone charger, earphones etc.
Other things you must know
Before you proceed with the activation steps, ensure you turn your phone off.
Also, you must insert the SIM card into the phone, during this time.
However, the SIM card that comes with the Xfinity Mobile, can be used with your existing phone.
When activating for the family, you can ensure no SIM card get mixed up, using the X Mobile's labels. Lets get back to business of activating your new device. Read the next field for details.
How To Activate Xfinity Mobile
To activate your new device, proceed with the directives below
Visit Xfinity Mobile website at xfinitymobile.com/activate
Input your email address, mobile number or username.
Enter your xfinity password
Select the Sign in tab, below
Incase you forgot your login ID and password, don't worry you can recover it with few steps.
Recover your Password
To reset your password, go to the login screen and click on  " forgot Xfinity ID or Password tab" you will be needing your Username it email to reset your password.
Recover your ID
Follow the step above to access the ID recovery page.
However, to recover your forgotten ID you will have to confirm your mobile number or email address/ SSN.
After confirming the detail, tap on the continue button. Kindly follow the prompt on the screen to complete the process.
Activating Your Device
After you login to the platform, remember we're still on the activation process.
Choose the phone you want to activate
It will require the account number and PIN from your formal carrier, to transfer to the recent number. You can contact your formal carrier to verify the info.
If you want a new assigned number, click on the "I want a new number" the number will be assigned to you after successfully activating the device.
Then, tap on the "Activate" button
After your device successfully pass through the activation process, wait for a while to receive a confirmation email. However, it is when you get the email confirmation notice, that you'll know that the activation was a success.
You can now switch on your device. You're good to go, start using your device.
Xfinity Mobile Customer Service
Do you need more help? Why not reach out to the customer care.
Call an Xfinity Mobile agent at (888) 936-4968. Tweet us at @xfinitymobile.
Chat With Xfinity
Get 24/7 help with any questions you have, by visiting their online Support page.