Are you searching for how to make money from social media?  You have come to the right place. In this article, you will learn the various ways how you can make a leaving through playing on social media.
What is Social Media?
Social media is the collection of all the online channels for communication, interaction and content sharing. The primary purpose of social media is to build social connections and interact with people.  Research has shown that an average person spends close to 4 hours a day on social media.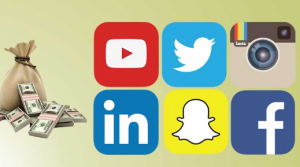 We can use the whole time we spend on social media to make money. Social media is growing very big and bigger each day, statistics from forbes.com says that Facebook has about 2 billion participants while Instagram has 800 million monthly active users.
with this number of people on social media, you can leverage the connections you have created to make money. One can use this larger number of users to make money in several ways. Let see the various ways on how you can make money on social media. They are several means to make money on social media but for the purpose of this article, we shall be considering 3 of the best that is easy and most profitable.
WAYS TO MAKE MONEY ON SOCIAL MEDIA
BECOME AN AFFILIATE
Becoming an affiliate means taking advantage of your large followers on social media to promote other companies' products.  Affiliate is one of the best ways to make money on social media. Most people think you need millions of followers to be able to make money on social media. In contrast,  companies are looking for the best and cheapest ways to reach their audience. Not all companies can afford to pay huge funds to celebrities.
Therefore, they lookout for a smaller audience and target them. Don't wait until you have millions of followers before you can promote a company's product, with your small number of followers you can promote one or two products. Just make sure you have the right niche audience that you can easily influence their buying decision.
In addition, if you are good at building social media followers or communities, you can promote affiliate products on your page by posting another company's products on your page. When any of your followers clicks on it and makes a purchase, you earn a commission from it.  Clickbank, CJ Affiliate and Amazon are some of the popular affiliate marketing programs you can sign up for. In conclusion, if you have huge traffic on your page on Facebook, Instagram, etc and have not utilized these potentials, become an affiliate and you will smile to the bank soon.
SELL YOUR OWN PRODUCT
You can make money online by selling your won products. You can advertise for your personal product. For instance, you are a cloth designer, you can build followers on social media and advertise for your own personal product. You can achieve this by making a video of your product and by taking pictures of them.
SELL PHOTOS
If you love taking pictures or an active Instagrammer you can make money by selling pictures on social media. All you need do is to post pictures constantly. You don't really need an expensive photographer to achieve this, you can take pictures using your android or iPhones. these phones have a built-in super camera that can take professional pictures.
How to make money from social media
are several means to make money on social media but for the purpose of this article, we shall be considering 3 of the best that is easy and most profitable.