IMAP stands for Internet Message Access Protocol. IMAP settings are used to view Gmail messages in an external email client. This article will help you with the help you need for IMAP settings for Gmail
When you want to receive Gmail through a separate email client, set up your Gmail account on an email client such as Apple Mail or Outlook and get all your mail into one place.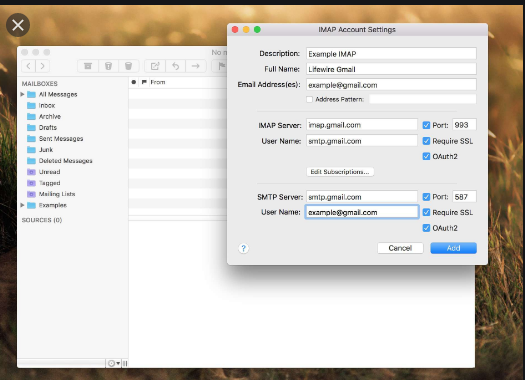 With IMAP, you can read your Gmail on multiple devices and messages and folders are synced in real-time. One would need to provide the IMAP settings so that the email client knows how to retrieve your Gmail messages. For the Gmail IMAP settings to work in your email client, IMAP access must be enabled in Gmail online.
In order to receive Gmail messages on other devices, enter the following settings according to the directions for a specific application:
Gmail IMAP server address: imap.gmail.com
Gmail IMAP username: Your full Gmail address (For instance, [email protected])
Gmail IMAP password: Your Gmail password
Gmail IMAP Pot: 993
Gmail IMAP TLS/SSL required: Yes
Either TLS or SSL can be be used depending on your email client. It is proper to check the documentation for the email client to determine which one is appropriate.
ENABLING IMAP FOR GMAIL TO WORK WITH OUTLOOK
Before using Outlook with Gmail, you would need to enable IMAP within Gmail. The following provides guidance on how to go about it:
Select the gear icon to bring out the menu, then select Settings
Select Forwarding and POP or IMAP to bring up the POP and IMAP settings
Under the IMAP access section, select Enable IMAP
Scroll down to the bottom of the screen and select Save Changes
GMAIL SMPT SETTINGS FOR OUTGOING MAILS
In setting up your client to receive Gmail messages, you would need to also provide Settings to it to allow it to send messages. This is very necessary when working with an external email client. Messages are sent using the Simple Mail Transfer Protocol (SMTP) settings. Simple Mail Transfer Protocol (SMTP) settings are needed in accessing Gmail with another mail client.
Setting the SMTP involves:
Gmail SMTP server address: smtp.gmail. com
Gmail SMTP username: your full Gmail address
Gmail SMTP password: your Gmail password
Gmail SMTP port (TLS): 587
Gmail SMTP Port (SSL): 465
Gmail SMTP TLS/SSL required: Yes
Once again, either the TLS or SSL can be used, depending on the request of the email client.
ADDING GMAIL ACCOUNT TO OUTLOOK AUTOMATICALLY
In adding the Gmail address and password to Outlook, it will usually detect all the other settings automatically. Doing this involves:
In outlook, select file to enter the backstage view, then select Add Account
In the dialogue box that appears, enter your Gmail email address and password
Select Next
Select Finish