I want a Guacamole from the Chipotle restaurant. This is what you can simply prepare in your home but you think is difficult to prepare. Below I will show a guide on how to prepare Guacamole as stated by a cook at chipotle. Don't bother knowing his name.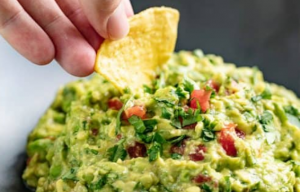 Over to what it takes to prepare Guacamole. This example is typically calculated for approximately 2 cups of guacamole.
Requirements:
Chef's knife = 1
Mixing bowel = 1
Potato masher = 1
Avocados, Hass = 2
Fresh Minced cilantro = 1 cup
Chopped red onions = 1 cup
Sea salt, coarse ground = 1tbsp
Lemon juice = 1tbsp
Lime juice =1tbsp
Jalapenous = 1
Now we will look into what we should put into consideration while we prepare guacamole.
Choosing the right avocado. Preparing this requires you put into consideration the right avocado which is the ripe avocados. Most importantly the Hass Avocado is the Mexicans avocado. Now how will you the ripe avocado? If you get the avocado and you were able to mesh it with your hands slightly, then you are good to go. Or better still chop them into cubes instead.
Slice the avocados. Now you cut the avocado into half and peel off the pit with the heel of the knife. And then use a spoon to scoop the avocado off the skin and drop the pieces in a bowl.
Smash the avocados. You can simply use the potato masher and a spatula or fork. You have to mesh it into a fine paste.
Slice the jalapenos and mince the cilantro. You are required to slice the jalapenos and According to Nate, in cooking, "chopping" food should result in morsels between 1/8-1/4″ in diameter. Afterward, you can then remove and then cilantro stems (to reduce the moisture content). And reduce the remaining cilantro "hands" into a fine mince. So, therefore, ensure you cut. This is because when you smash the cilantro rather than cutting it, you will press out oil and water off it, thereby reducing the flavor.
Squeeze the lemon and the lime juice. You can either do this with juicer or press out the water. Also, consider making use of fresh lemon and lime juice.
Gather all the ingredients and mix all. This is the last part of it all. The importance of mashing the avocado first as you did in the first step is that if you mash it with the other ingredients because the onions and jalapeños will get crushed and you'll end up with extremely runny guacamole.
Mix the chopped onions, minced cilantro, crushed salt, lemon and lime juice into your avocado paste.