Customer service representatives enable customers who have complaints and questions to get the necessary information they need about products and services, take orders, as well as process returns. As customer representatives help customers understand the product and answer questions about their reservations, they are considered as having a role in sales.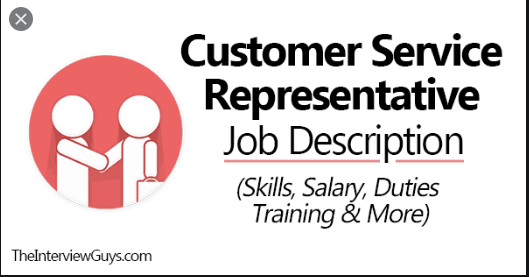 The customer service duties and responsibilities generally include answering phone calls and emails, responding to customer complaints and questions as well as walking customers through a basic troubleshooting or setup processes. When it comes to the case of a sales customer service representative, customer service duties and responsibilities will include selling products and services to clients as well as processing payments.
Who is a Customer Service Representative?
A customer service representative supports customers by offering helpful information, answering questions, and responding to complaints. These sets of workers are the front line of support for clients and customers and they help in ensuring that customers are satisfied with products, services, as well as features.
Customer Service Representative Job Description Template
The customer service representative is hired to manage customer queries and complaints. They are also expected to process orders, modifications, and escalate complaints across a number of communication channels. To do well as a customer representative, you need to be able to remain calm when customers are frustrated and have experience working with computers.
Customer Service Representative Responsibilities
A customer representative should be able to maintain a positive, empathetic and professional attitude towards customers at all times.
Respond promptly to customer inquiries
Communicate with customers via various channels.
Acknowledge and resolve customer complaints.
Know the company's products inside out to enable you to answer questions.
Be able to process orders, forms, applications, and requests.
Keep accurate records of customer interactions, transactions, comments and complaints.
To communicate and coordinate with colleagues as necessary.
Offer feedback on the efficiency of the customer service process.
Manage a team of junior customer service representatives.
Make sure customers are satisfied and offer professional customer support.
Requirements for Customer Service Representative
Have the ability to stay calm when customers are stressed or upset.
It should be comfortable using computers.
Have experience working with customer support.
Places You Can Find Customer Service Representative to Hire
You can scout for customer service representatives at the general job listing websites and free job posting sites. These include sites like Indeed, Glassdoor, and Monster, etc.
Customizing the CSR Job Description
As you advertise a customer service representative job, you should include details about the position at your company. You can add your own customer service representative duties to the site list or edit the customer service agent job description to include the qualities and skills you want in your next hire.