Accountant job description are those that help make financial decisions by collecting, tracking, correcting, and communicating the financial position of the company. Accountants, record transactions, compile and analyze data, perform audits, and assist with budgets and financial forecasting, computing taxes and reporting findings to the management and other entities, like IRS or investors.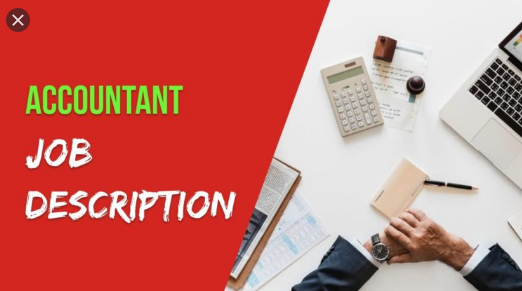 To start your accountant job description, start by introducing prospective candidates to your company and highlighting what makes working in your office unique. Take a few short sentences to really distinguish your company from other competing job listings and sell yourself to job seekers. Note that, a strong job description can help lead qualified candidates to your inbox.
Accountant Job Description Template
Organizations are seeking accountants who are trustworthy candidates who are capable of working efficiently without sacrificing accuracy. They must be prepared to work with large amounts of numerical data, handle multiple tasks with deadlines, and offer transparent and complete reports to management.
Also, they are expected to have a firm grasp of accounting and financial practices and regulations and possess strong computer and verbal and written communication skills.
To ensure success as an accountant, you should be prompt, honest detail-oriented, professional, and analytical. Top candidates are those with excellent presentation skills with the ability to successfully communicate complex quantitative data to decision-makers.
Responsibilities of an Accountant
To comply with all company, local, state, and federal accounting and financial regulations.
They are expected to compile, analyze, and report financial data.
To create periodic reports, like balance sheets, profit & loss statements, and much more.
Presentation of data to managers, investors as well as other entities.
Maintain accurate financial records.
Perform audits as well as resolve discrepancies.
Compute taxes.
To keep informed about current legislation associated with finance and accounting.
Assist management in the decision-making process by preparing budgets and financial forecasts.
Accountant Requirements
A bachelor's degree in Accounting or it's a related field.
Those with more education or experience will have an added advantage.
Special licenses or certification may be needed.
Strong analytical, communication and computer skills are also very necessary.
There should be an understanding of mathematics and accounting and financial processes.
Ethical behavior
Attention to detail.
Accountant Work Hours & Benefits
Advice prospective accountants about work from home and support staff options.  You can also take the opportunity to focus on the benefits which distinguish your firms, such as stock and ownership options, paid parental leave, or corporate travel accounts.