SecureSpend is a great prepaid gift card for making purchases nationwide. You can get the most out of this Card for online shopping, dining out, paying for gas, etc. SecureSpend – Check Your Balance This card gives you peace of mind knowing your transactions and personal data are safe. So, if you're looking for a more simple way to pay your bills or make purchases, SecureSpend is best for you.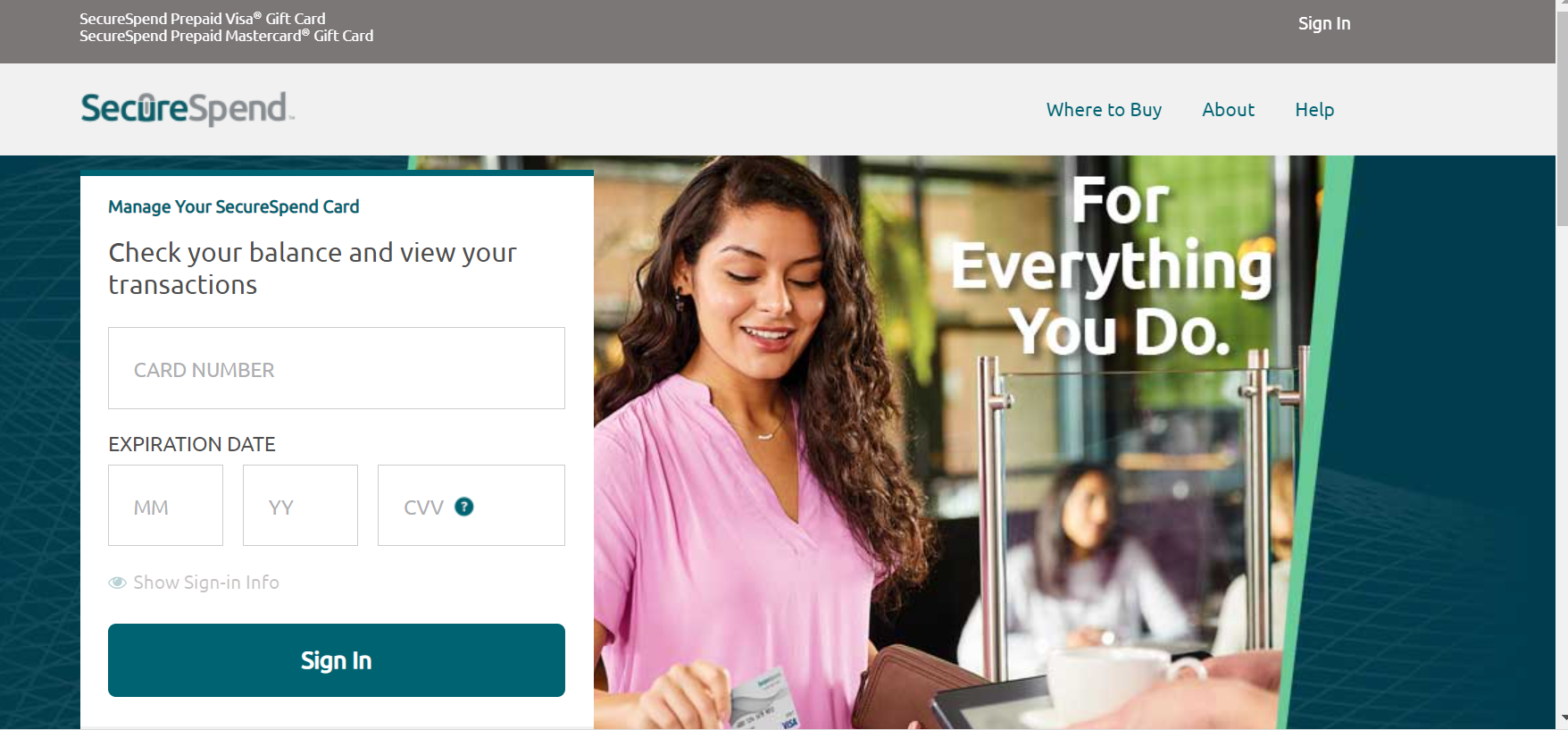 How do I get started? It's very easy, just get the card, load your money and then start using it. Other amazing benefits of the card are as follows;
There are no pre-approvals
No personal information
Hassle-free
However, in this post, you will get all information you need about the card.  Information such as how to check your balance, make an online payment, activate your card, etc.
SecureSpend Card
The card comes with the following features
Safe and simple to use
No registration required
No fees after purchase
Get 24/7 customer service.
Furthermore, the card is very much available at thousands of retail locations across the U.S. below are the list of SecureSpend retailers, where you can get the card
CVS pharmacy
Walgreens
Dollar General
Walmart
Rite Aid Pharmacy
Family dollar
Xchange
7 Eleven
Speedway
Sam's Club
HEB
Duane Reade
Circle k
Sheetz
Food City
Cumberland Farms
Associated Food Stores
After you purchase your Card, you can start using it right away. It is very simple and safe to use, so you have nothing to worry about.
How To Use SecureSpend
After getting the card, the next thing is to know how to make use of it. In the sections below you will be learning how to check your account balance, activate your card and pay bills.
Knowing your Balance: Merchants cannot determine your Card balance, and if you try to buy an item greater than your balance, your card may be declined. So to avoid embarrassment, you can easily check your card balance online. by signing into your account
Secure Spend Card Activation
How do I activate my SecureSpend Card? Your Card activates as soon as it is purchased. Just make sure you sign the back of your Card as soon as you receive or buy it.
You can write down the Card number and Customer Care number in case your Card is lost or stolen.
How To Check Your Balance
To check your card balance, you must login to your account, here are the steps
Go to https://securespend.com/
On the homepage, click on the Menu tab at the top left corner of the page.
From the drop-down list, select "sign-in". This will take you to the sign-in page
Fill in the form, with your card number, card expiration date
Then, select the "sign-in" widget
You can now proceed to check your balance and manage your account.
SecureSpend Online Payment
Do you want to pay your bills online? You need to know the following
The card is a simple, safe, and convenient method of making online bill payments. However, you cannot use it for automatic recurring payments, such as subscriptions or memberships.
After you shop online with your Card, ensure your balance is more than the entire cost of the purchase, including taxes. Why is it so? Some transaction types require a hold of up to 20% above the purchase amount. For more info review your Cardholder Agreement.
How To Make Payment Online
Login to your account
Select the payment tab
Choose 'Credit' or 'Debit' as the Payment Method (Do not select 'Gift Card')
Provide your card details
Then, on the Billing Address field, input your name and address
For In-store payment
After picking items you want to buy, go straight to the cashier and present Your card. Just make sure you know your balance before you shop.
Select and Sign
Lastly, choose Credit and sign the receipt. However, you can visit your online account to track your transactions.
Debit Option
You may complete your purchase as a debit transaction by selecting Debit and entering your PIN.
Customer Service
For more inquiries and support, contact the customer care Agent. However, to reach a Customer Care Agent dial: 1-833-563-8200
Or write to:
SecureSpend Customer Care
PO Box 826
Fortson, GA 31808