Conflict of interest in the workplace happens as a result of different interests or goals within one establishment or setting. It arises when an employee, bound through the company's code of conduct to act in the best interest of the employer, rather acts in their benefit. Also known as COI, conflict of interest in a workplace can be quite toxic and fosters opposing causes as well as competition.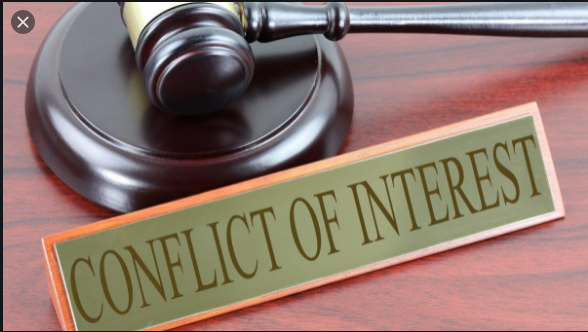 Examples of Conflict of Interest in the Workplace
Working behind the back of your company with a competitor.
Using confidential information gathered on the job for your benefit.
Taking consulting fees and offering advice to another company for personal gain.
Divulging information in an interview about your employer's activities or plans.
Double-crossing on a business opportunity that your company might have pursued.
Engaging in a romantic relationship with a supervisor or subordinate.
Championing the cause of a business or purchasing to boost a business that you have a stake in.
Taking favors of gifts from clients above the amount stipulated as acceptable by the company.
Being the owner of part of a business that sells goods or services to your employer.
Reporting to a supervisor who happens to be a close friend or family member.
Providing paid services on your time off to a company customer or supplier.
Being a part-time worker for a company that sells a competing product or service as a full-time employer.
Choosing to accept payment, to divulge information to another company about your employer.
Covering a subordinate or coworker's wrongdoing because they are a friend.
Sharing confidential information with a competitor about your employer.
Employing an unqualified relative to offer services to your company.
Starting a company that offers similar services as that of your full-time employer.
Hiding the fact that you are related to a job candidate that the company is considering hiring.
Working out modalities on how to work for a vendor or client at a future date while continuing to do business with them.
Making your company's weaknesses known on social media.
How to Handle Conflict of Interest in the Workplace
As stated by the Association of Certified Fraud Examiners' 2018 Report to the Nations, corruption (including conflicts of interest) goes on an average of 22 months before it's investigated. Thus, if you suspect an employee conflict of interest, (or any is being disclosed to you), make a timely well-documented analysis of the situation to ensure your company is taking the right step in addressing the situation.
Another way of handling conflict of interest in the workplace is if you know that there is one. Thus you have to encourage employees to talk to their manager if they sense they have an actual, perceived or potential conflict of interest.
If you have been able to determine, that an employee has a conflict of interest, you may be required to take steps to either resolve or mitigate the situation. Always make you start by consulting your conflict of interest policy.
Based on the details of the COI, you may be required to do the following:
Warn the employee.
Mandate the employee to relinquish their conflicting private interest.
Restrict involvement in the conflicted project or task.
Lay-off the employee from the said project or task.
Speak with a lawyer about the legal implications of the conflict of interest.
Sack the employee.