An IMAGE CONVERTER SOFTWARE PROGRAMS is a file converter that converts one image file format into another. Cases arise when a person cannot use an image file, photo, or graphic because the format is not supported, this is where the image converter software comes in.
Some of the best free image converter software programs are: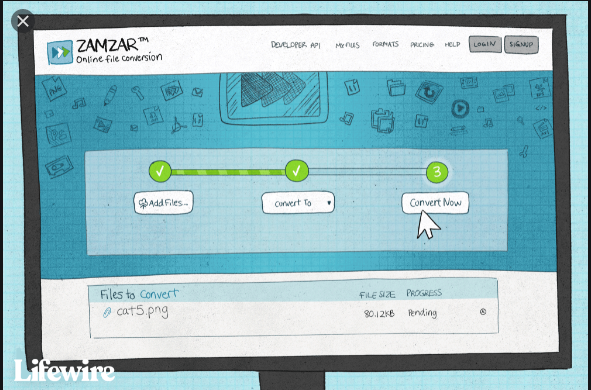 XnConvert / IMAGE CONVERTER SOFTWARE PROGRAMS 
Firstly, it is one of the best image converters. Also, it converts between lots of image file formats and can convert multiple images at once. It has lots of advanced settings that you can employ or customize including batch conversion, resizing, folder imports, and filters.
A portable option of the converter is available and it works with Windows, Linux, and macOS. Using this converter requires you to download the software to your computer.
DVDVideoSoft's Free Image Convert and Resize
This converter resizes and converts images. It is fairly easy to use, even though it doe not support several image formats. Multiple files can be resized and renamed at once here. During setup, the installer tries to add a few additional programs to your computer that you may not need; simply skip over such programs.
CoolUtils Online Image Converter
It is an image converter that exists and runs completely online. You do not need to download the converter tool. The converter does the image converting in real-time and you do not need to wait for an email link.
Images here can be resized and rotated before getting converted. CoolUtils works with almost all operating systems because it operates via a web page. However, it only converts one image at a time.
FileZigZag
FileZigZag is an online image converter service that can convert images as large as 150MB. It supports bulk uploads and downloads and works on the most common graphic formats. As an online converter, you would have to wait for the intending converted file to be uploaded and then again wait for the download link. All these of course take a toll on your time. Free users are limited to ten conversions per day.
Adapter
It is an image converter program that supports popular file formats. Its interface is minimal and easy-to-use and conversions are available instantly. The images here can be dragged and dropped into the queue and image size is clearly seen before and after they are converted.
Advanced options such as custom file names and output directions, text and image overlays, and resolution and quality changes are available. The adapter works very quickly and files are not required to be uploaded online. The program also converts audio and video files and it supports Windows and macOS devices.
Zamzar
This program supports bulk conversions. The converted file can be downloaded from an email. Zamzar is easy to use and files can be uploaded from the computer or from another website via URL. Images converted can be as big as 50MB and only a maximum of two images can be converted per session.