FREE DATA RECOVERY SOFTWARE. Recovering deleted files from hard drives, media cards, flash drives, iPhones, and some other devices is possible. Though it is not absolutely guaranteed that your accidentally deleted files can be recovered, there is a good chance it can be, especially if it hasn't been too long since it has been deleted.
There is available software that helps with the recovery of such deleted files. Some of the best free ones are: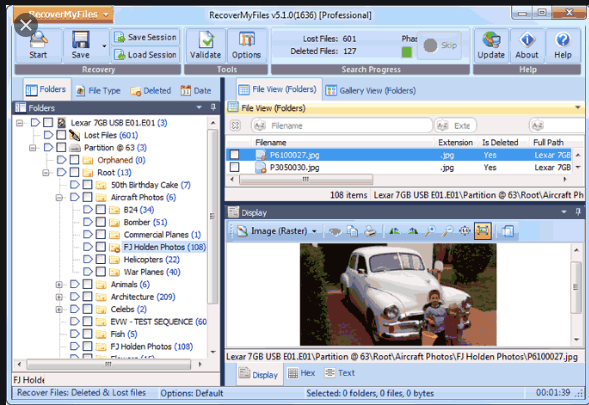 SoftPerfect File Recovery / FREE DATA RECOVERY SOFTWARE
This is a superb file recovery program. It is very easy to use and searching for recoverable files is easy. It works from any portable location like a flash drive. SoftPerfect File Recovery undeletes files from hard drives, memory cards, and other devices. It practically supports any device on a personal computer that stores data except for CD and DVD.
Deleted files can be searched for by file extension and file name, and you can restore more than one file simultaneously. However, you cannot preview an image before restoring it.
Wise Data Recovery
This recovery tool is very simple to use. It scans for deleted files quickly and also installs quickly. The program works for various USB devices like memory cards and other removable devices. It has the options of a quick and full scan depending on how deep of a scan you want to engage. It has a portable option too.
Wise Data Run Recovery does not work with Mac and Linux devices.
iCare Data Recovery Free
One of the best features of this program is the ability to preview text and image files. Deleted files can be browsed in thumbnail view so you quickly see which files to undelete. It supports lots of file types and so can possibly recover anything that has been deleted. Windows can download this program as a portable tool or a normal installable program.
The software has two scan options. You can choose between a quick scan that may not catch everything and a longer scan that will likely locate more deleted files. It however cannot pause a scan to resume later and it runs on Windows only.
Restoration
This recovery program does not have complicated buttons or a complex recovery procedure; it is thus really easy to use. It is a small and portable program that doesn't need to be installed. The program can run from a floppy disc or USB drive.
Restoration has several ways to sort for results and it can search for empty deleted files. It recovers files from USB drives, memory cards, hard drives, and other external devices. However, it cannot restore a whole folder at once, only single files.
ADRC Data Recovery Tools
ADRC Data Recovery Tools has a simple user interface that's easy to grasps. Its file recovery program is uncomplicated and it does not need to be installed. It works from any portable location. The program however has not been updated since 2008.