The Internet has taken over almost everything we do. There is nothing on earth that we cannot find on the internet. With all the activities on the internet, it's important that we also store our files on the internet. Cloud storage is now a popular business today.
There are many cloud storage services available. You will face the problem of which one to choose from. In this article,  I will be looking at the best cloud storage for free.  I will review each of them so that you can be able to make the best choice out of them.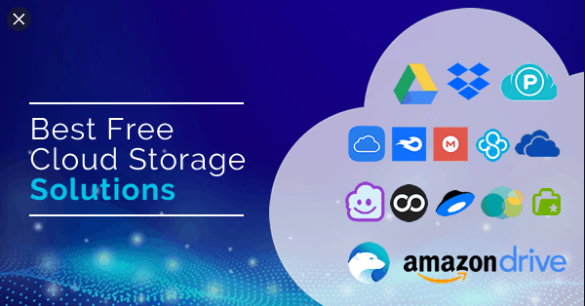 Best Cloud Storage For Free
What is cloud storage
Cloud storage is a means through which people can store and save their media files online by uploading via their computer or mobile devices. You can access the files anytime, anywhere provided you have an internet connection.
For you to be able to use the online storage service, you have to first download and install the software on your device. Thereafter, you create a backup folder for all the files you want to save online. These folders will be automatically uploaded and stored in the cloud.
You can access the files and documents any time and anywhere by login into your cloud storage account. Or by opening the app on your device. In addition, you can share your files and document with friends through a special link.
Is cloud storage safe?
Many people have argued that cloud storage is not a safe place to store your documents. However, cloud storage is one of the best safest places to store your files. Cloud storage providers use encryption to store and keep your files safe. And whenever you want to access the documents they use the two-step verification process to ensure that the right person has access to the account.
In contrast, cloud storage is the safest and easy way to back up your files and documents in the sense that it's only you that know your password to your account.  Therefore, its a personal info. You can only lose your documents to the public when your account is hacked or you leaked your password to another person.
Best Cloud Storage For Free
I early mention that cloud storage is the best way to send, store and share files across different platforms, computers or multiple users. They are so many cloud storage service available. You need to know which is the best cloud storage for free and which one can offer you maximum security for your data and files. I have researched and made a list of the best cloud storage for free, I hope they will be of great importance to you. Below is the best cloud storage for free.
Google Drive
Google drive is rated as the top best cloud storage available. With the highest active Android device users in the world, Google drive stands as the best-preferred choice. It comes with 15G free storage. And also offers users the opportunity to buy more space for a low price. It has high encryption. Therefore, your data are perfectly safe. Almost all android device comes with Google drive. Thereby, making it the default cloud storage app for all android users. One of the most common features of Google drive is its integration with other  Google products like Gmail, Google Doc, Chrome, etc.
Pros
Easy to set up. If you already have a Google account you don't need any other set up.
Stock with Microsoft office.
It automatically uploads your photos to the cloud.
Cons
Somethings users are faced with sync issues on the web interface.
Your Gmail account shares the storage space.
If you use Google drive tools to create a document you must export them to other programs for editing.
 Microsoft OneDrive
One drive ranks the second-best cloud storage for free, according to our research.  The app is the Microsoft storage option and is connected to the entire Microsoft suite. This makes it easy to function with other Ms programs. It's the default cloud storage for Windows 8 and 10. However, OneDrive is also available for Mac and OS users.
OneDrive comes with free storage of 5G for new sign-ups. But you can buy more storage space. It has high encryption with AES-256 for providing security to your data.
Dropbox
Dropbox is one of the best cloud-free storage because it's safe, reliable and easy to set up. it offers you the opportunity to upload and save any type of documents by uploading to the website or you can drag and drop the file into your Dropbox folder.
it offers you easy access to your files either from the website or from the desktop applications for Mac, Windows, and Linux, etc.  Dropbox offers 2GB free storage space. It automatically syncs your files with other devices thereby making it easy for you to access your file from any device.
Although Dropbox has got a lot of praise from people, it still has some shortcomings. For instance, the app does not give users the opportunity to view and organize their files. Most user complains about the small free storage capacity offered by the app.
Icloud
Icloud Is the default cloud storage for apple products and all devices that run IOS and macOS. Its used to back up all personal files your phones. It automatically saves images and video files from your camera. It offers users 5GB free space with the opportunity to buy more storage space.
Icloud only works on Apple products this gives it a limitation and may not be useful to some people.
Best Cloud Storage For Free
there are many cloud storage services available. you will face the problem of which one to choose.I have made a list of the best cloud storage for free