GMX Mail is a free advertising-supported email service provided by GMX. GMX stands for Global Mail eXchange, also known as Global Message eXchange. GMX Mail may be accessed through webmail, POP3, and IMAP4 protocols.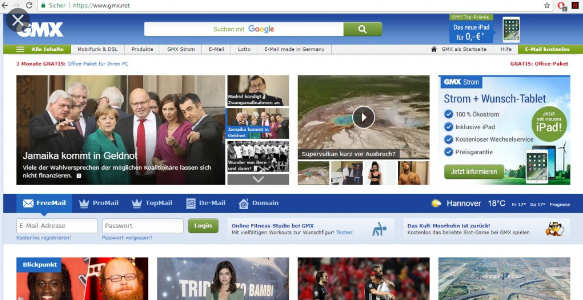 Global Mail eXchange (GMX) was founded in 1997. It is a subsidiary of United Internet AG, a stock listed company in Germany and a sister company to 1 and 1 Internet and Fasthosts Internet. In addition to an email address, each GMX account includes an address book, organizer, mail collector, and file storage.
Every user can register up to ten different GMX email addresses. Whether a person is on a premium package or not, users are greeted by pop up ads when they log in.
Global Mail eXchange (GMX) is the only large email provider to support popup ads. GMX Mail now has eleven million active users.
ACCESSING GMX MAIL IN GMAIL
Using both Gmail and GMX email addresses, one may find out that checking email in both places can be very inconvenient. However, a person can set up Gmail to retrieve his or her GMX email messages and even send them from the gmx.com address. Gmail can also be made to apply a label automatically to all your GMX mail messages so that they are all in one place with Gmail, thereby leaving your inbox uncluttered.
To access GMX Mail in Gmail, the Gmail account will have to be linked to the GMX account. This is done by:
Log into your Gmail account
Select the Settings gear icon in the top right corner
Choose Settings from the menu
Select the "Accounts and Import tab" on the Gmail settings
Locate "import mail and contacts" on the Accounts and Import tab
Select "Import from another address"
A new window pops open. Enter GMX address and press continue
Enter GMX Mail password on the next screen and press continue again
Gmail signs you into your GMX account. A couple of options for what to sync are presented to you. Select what you want to sync and press "Start Import"
On setting up everything, Gmail sends a success message. Press OK to finish.
SECURITY
Global Mail eXchange provides GMX.net users with two factor authentication (2FA) to secure their email accounts, which is a form of Multi-factor authentication.
Email accounts can be registered with a choice of .com, .co.UK and .us, amongst several others. It allows the addition of up to ten add-on addresses at different GMX domains. Its "mail collector" allows for the collection of email from most free email providers including Yahoo, Live, Hotmail and Gmail as well as send mail from these addresses, allowing for the management of multiple accounts from one single location. There is also active community participation where users can suggest features.
Global Mail eXchange or Global Messages eXchange developed slightly different clients for their users in Germany and for those in other nations. All forms of Global Mail eXchanges are free for all email services and it direct users to the appropriate login website through geological technology to gmx.net or gmx.com.