Are you seriously searching for a pressure washer with an adjustable setting so you can use it for all-purpose cleaning at home? If yes, the 4-in 1 Generac One Wash Pressure Washer is your best option. The Pressure washer has 4 special settings that are very easy to set. They include 2000 PSI, 2500 PSI, 2800 PSI, AND 3000 PSI.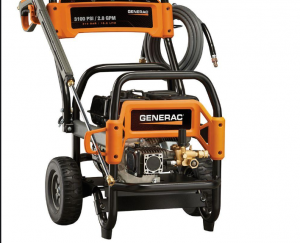 With the above setting options, you can easily wash very tough surfaces as well as very smooth surfaces such as your car and other appliances. The Pressure washer is very easy to use and does a thorough cleaning.
Additionally, the Generac One Wash rests on 2 big wheels for quick and easy maneuverability. The washer as well as a foldable handle for compact storage. All the settings are stand in a knob dial fashion, you only need to slightly turn to whatever direction you wish to adjust the setting. The settings and control are on one side on the front of the pressure washer.
Moreover, the engine of this product is of a high standard and comes with a low oil shutdown. This is a feature that is very rare on other engines and as well gives the washer a prolonged life. It aswell comes with an easily accessible pump that will well place above the ground to ensure that you do not kneel down to make hose connections.
The Generac One Wash gives variable pressures for you to choose the one you need. The ergonomic spray guns help you reduce fatigue by reducing vibration. Also, the innovative easy to pull spray trigger can be held with less effort.
Whenever the levels are low, the indicators will light up to inform the user. The product is engineered and made in the USA. The automatic shutdown is for low oil and low water pressure.
Furthermore, the Generac One Wash Pressure Washer comes with a whole lot of items. They include the pressure washer, free bonus turbo nozzle, 2-year warranty, starter kit, 20-inch lance, ergonomic spray gun, 30 foot PVC hose and lots more.
To get more details about the Generac One Wash Pressure Washer, go to www.powertoclean.com. On that website, you can even watch the video of this Pressure washer and how it works. You can as well read reviews by individuals who have used it before making your purchase. The Generac pressure washers are available at many home centers, retailers and e-commerce merchants across the United States.
You may ask, what is the price of this product?  It has payment options that include 4 payments of $99 per month including shipping and handling.